St Robert's has a traditional robed choir which has been affiliated to the Royal School of Church Music (RSCM) since 1981. At present it has an adult and children membership.  The children work towards gaining their awards in the RSCM 'Voice for Life' training scheme.
The Choir plays a full part in leading the worship at the 9.15am services (except for the All-Age service), and usually sings a joint benefice Choral Evensong when there is a fifth Sunday in the month.  We also sing for other Festival and occasional services – Advent and Christmas carol services, Candlemas Service of Light, Christmas midnight Mass, Holy Week Compline, Harvest Festival and other services.  Once or twice a year, the Choir also joins with other choirs in the Harrogate Deanery to sing choral services at special times.  From time to time, we give concerts at St Robert's  – at the Flower Festivals and on other fund-raising occasions – sometimes joining forces with Pannal Primary School choir.  Once a year we perform a major choral work as a devotional offering on Palm Sunday or Good Friday.  Fauré's 'Requiem', Stainer's 'Crucifixion', Maunder's 'Olivet to Calvary' and Thiman's 'The Last Supper' have all been performed, as well as other works.  Most recently we sang Rutter's 'Requiem' on Good Friday, 2018, along with other seasonal items by the same composer (pictured)
Several of the choir currently sing with the RSCM Northern Cathedral Singers; and we have provided singers for this choir – both children and adults – over many years.
The choir rehearses weekly on a Thursday evening, except at Half-term and during the Summer holidays; children from 7.00 to 7.50pm and adults from 7.30 to 8.45pm – frequently followed (voluntarily) by a visit to the Black Swan to lubricate tired vocal chords!
The Choir has an active social life and members regularly get together for a meal, drink or perhaps a visit to a show or other performance.  Following the Christmas Festival of Nine Lessons and Carols, an evening party, hosted by choir members, has become a most enjoyable tradition.  Every two years, the Choir organises a Mid-summer Barbecue for church members, their families, friends and neighbours in aid of church funds……always a successful and fun occasion.
If you are interested in you and/or your child(ren) joining the Choir, or would simply like to find out more about their activity, please contact the Director of Music, Kevin Paynes; 01423 872651 kevin.paynes@ntlworld.com or Sarah Paynes; sarah.paynes@ntlworld.com.
MUSIC LIST
Click here to see the current month's music list
CHORAL EVENSONG – SUNDAY, SEPTEMBER 30th at 6.00pm at St Michael's on their Patronal Festival
The choir sang choral evensong at St Michael's  at 6.00pm on September 30th to celebrate the Feast of St Michael and All Angels and the music list was:
| | |
| --- | --- |
| Introit | Holy is the true light – William A Harris |
| Responses | John Reading of Lincoln |
| Psalm 103 | |
| Canticles | Anglican chant |
| Anthem | And I saw another angel – Charles Villiers Stanford |
---
NORTHERN CATHEDRAL SINGERS (NCS)
If you enjoy attending Choral Evensong….or listening to it on Wednesdays/Sundays on Radio 3….you might like to know that the NCS will next be singing Choral Evensong in Selby Abbey (formerly Holy Trinity Church) at 5.00pm on Saturday, November 17th, which will be the final evensong in their 2018 programme.  You would be very welcome to come and join us in worship on that occasion.  Currently, five members of St Robert's Choir are members of this group: Lyndsey Durant & Christine Ward-Campbell (sopranos), Sarah Paynes & Mary Ward-Campbell (altos) and Iain Ward-Campbell (bass)
To give you an idea of the venues attended, here is the full NCS programme for 2018.  The 2019 programme will be posted here as soon as it is available.
---
NCS 2018 - programme of visits
Saturday
Venue
Time
February 17, 2018
Durham
5.15
March 24, 2018
Halifax Minster
4.00
April 14, 2018
Doncaster Minster
4.00
MONDAY
May 7, 2018
York Minster
5.15
July 21, 2018
Manchester
5.30
September 8, 2018
Liverpool Anglican
3.00
October 6, 2018
Hull Minster
4.30
November 17, 2018
Selby Abbey
5.00
---
CHOIR CD
What better present for a music-loving friend or family member, could there be than THE CHOIR'S CD?!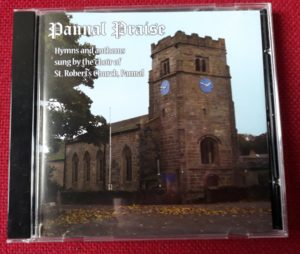 Tracks drawn from your favourites – take a look.  They are on sale now at only £5 – just speak to Sarah Paynes….or give her a ring on 01423 872651.  If it's for a present, you can get one or more already beautifully gift wrapped and ready to be presented to the lucky recipient.