The Youth Group enables younger members of the church to come together to celebrate and learn about God and to engage with their faith more easily.
"We love meeting over food (particularly bacon sandwiches!) and having fun whilst we learn."
"We like to ask the awkward questions but in a relaxed and chilled atmosphere."
"We meet most weeks, sometimes to chill and chat, sometimes to play games or do different activities."  Past activities have included baking, treasure hunts, rounders and board games evenings.
You're welcome to come and join us if you are in Years 7-11 or to come along and consider helping run the group if you are older!
Our next meetings for the rest of this year will be:
December 9th at 6.30pm in Church to help plan and rehearse the Roving Nativity around Pannal and Burn Bridge on Sunday, December 23rd
December 16th, Breakfast Chill'n'Chat at 9.15am in the Vicarage.  Please send your breakfast orders to vicar@strobertschurch.co.uk by Thursday, December 13th
…..and here's the upcoming programme for the start of 2019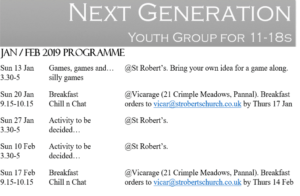 For more information and details, keep an eye on the mid-week messages and pew sheet notices……and please contact Rev'd Abbie on curate@strobertschurch.co.uk.